Connecting Stakeholders
Since September 11, 2001, over 950 people have been prosecuted for terrorism-related crimes in the United States. At least 250 have already been released, but an additional quarter will complete their terms of imprisonment between 2022 and 2025. Furthermore, the average age of the terrorist inmate population is getting younger and the average prison sentence shorter—dynamics that could increase the likelihood of recidivism. 
While the predominant majority of domestic terrorism cases over the past two decades have been jihadist-related, right-wing terrorism is intensifying: Between 2019 and 2020, domestic terrorism prosecutions filed by the U.S. Attorney's Office have increased by 49%, at least 800 people have been charged so far for the January 6 riots, and several legislators are working to expand domestic terrorism statutes. Additionally, recent cases involving members of extreme far-right wing groups such as Atomwaffen Division (AWD) and The Base and an increase in white supremacy in prisons all suggest a likely rise in future releasees with known affiliations to extremist movements.
Post-release plans for this very specific population are prepared locally on a case-by-case basis by various government actors such as federal prosecutor offices and probation services. This piecemeal approach results in limited options of recidivism reduction programming for terrorism-related offenses, and a limited capacity to evaluate, unify or replicate good practices. Yet, to create consensus around any given issue, it is first necessary to disseminate knowledge and awareness among stakeholders within any social service system. This process is crucial but can be difficult, and oftentimes underemphasized.
To overcome this, it is essential to establish an ecosystem of actors that can effectively combine each member's experience and insights into a base of collective knowledge and experience.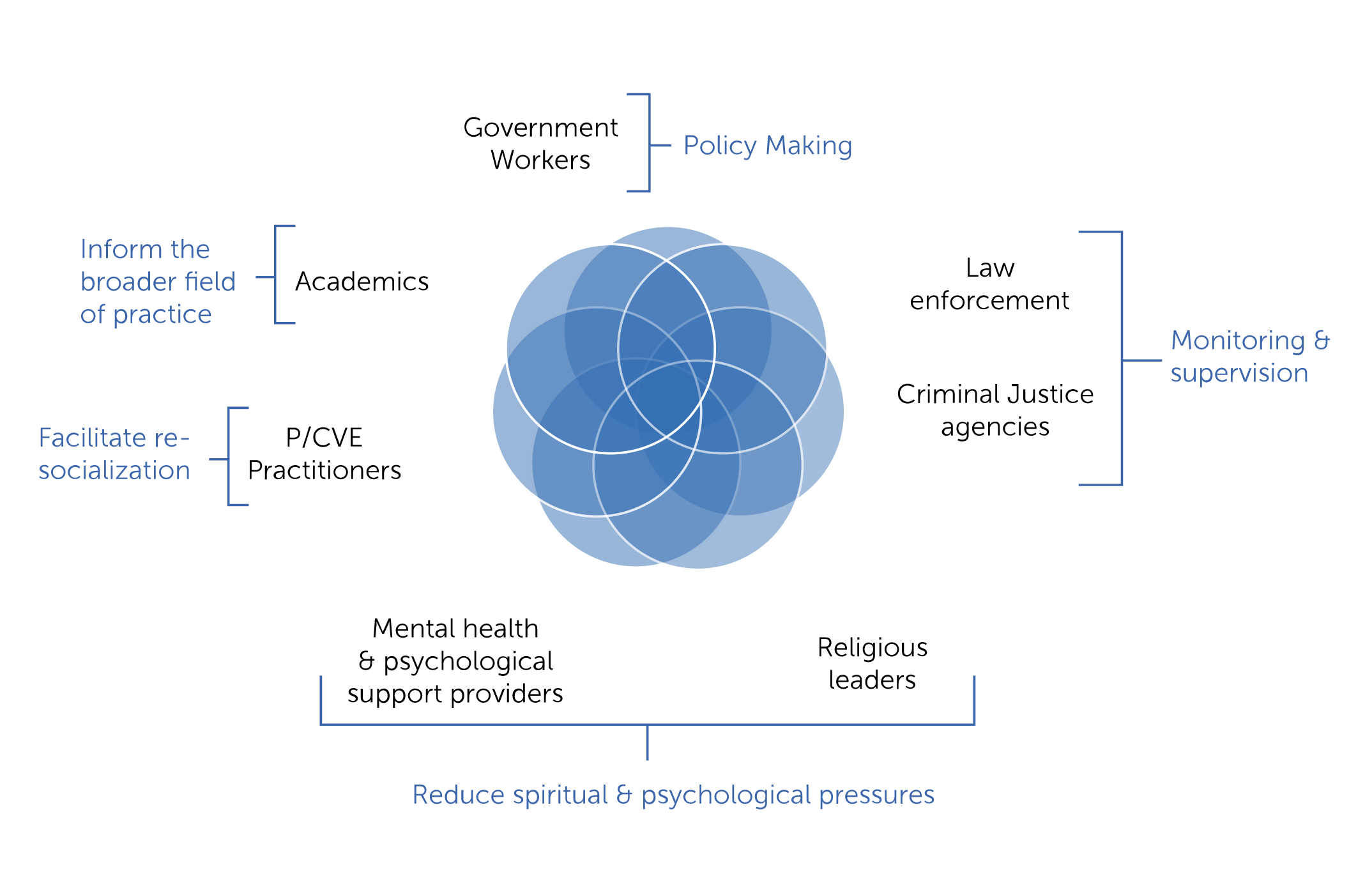 Enhancing Knowledge & Awareness
The 4R Network connects key stakeholders directly or indirectly involved in the extremist offender reintegration and recidivism reduction arena, as well as enhances their knowledge and awareness of best practices in the field of reintegration and rehabilitation of extremist offenders. 
General Knowledge
To date, the United States has neither established a formal rehabilitation and reentry program for convicted extremist offenders nor developed infrastructures to support these individuals upon their release. Apart from dealing with the same problems as any other inmate returning to society, the "terrorist" label further complicates the reintegration and rehabilitation of a population that was once at odds with U.S. society. This reality raises a series of pressing questions: 
Do extremist offenders emerge from prison rehabilitated and prepared for reintegration? 
To what extent do they continue to pose a risk to public safety? 
Do different types of terrorism-related offenders pose (and themselves face) distinctive challenges because of their specific ideological orientation, role, or time spent in their respective movement? 
What kind of interventions and/or programming could reduce the risk of recidivism post-release?
How can we (and they) truly know if they have effectively "deradicalized" and they are effectively reintegrating back into society?  
Throughout 16 two-hour online sessions led by national and international experts, members of the 4R Network are introduced to all priority actions listed in DHS's Strategic Framework for recidivism reduction.
Special Knowledge
The ultimate goal of any recidivism reduction efforts is to ensure that releasees can transition back into the community and acquire attitudes and behaviors that lead to productive functioning in society (reintegration). Programs should also focus on changing characteristics that are believed to be the cause of an offender's criminal behavior (rehabilitation). This implies building, strengthening, and maintaining social networks that can provide supportive relationships. 
Members of the 4R Network receive an additional 10 virtual two-hour practitioner trainings that advance and make evidence-based intervention mechanisms available. Practitioners will increase their ability to offer tailored deradicalization oriented mental health and psychosocial support services to address stigma, advance social, educational, and economic capital.